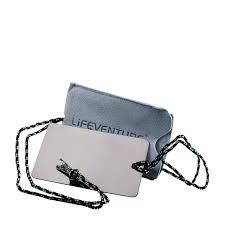 Lifeventure Travel Mirror (9380)
The Lifeventure unbreakable travel mirror is made with polished stainless steel, and comes complete with a suede carry pouch and neck cord.
Unlike a normal mirror the Lifeventure travel mirror is unbreakable. Made from highly polished stainless steel it is ideal for travelling as it is easy to protect and clean. The protective cover can be used as a cleaning cloth.
Stainless steel mirror
Dimensions: 94x64x4mm
Weight: 22g
Out of stock